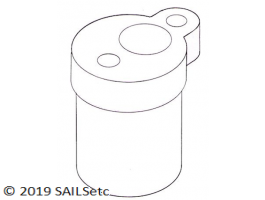 Masthead Plug
Sailstec
$3.50
Product Description
Head fitting - 11 mm Ø. For 11 mm Ø round mast tubes and 11.1 mm alloy GROOVY mast section. Suitable for use with 36R, IOM and similar size boats.
Now much copied, this is the original mast head fitting that is a push fit into the top of a mast. The design incorporates the upper limit mark, a hole for the mainsail head swivel and attachment for the backstay crane.

The original version is grey colour and meets the rule requirement for the limit marks to contrast with the colour of the spar.
SKU: 023-110